Armagard Custom Enclosures
Custom LCD Enclosure Designs, for Outdoor, Public or Industrial Environments
Specialized Solutions
Taking great pride in customer relationships, Armagard have been working with clients since 1994, developing sound custom solutions for unique and specialized hardware applications. Collaborating with clients not only allows Armagard to meet the high expectations of our customers, but also take on creative opportunities that enhance the Armagard portfolio.
Made to order solutions often range in design work, but common variations have included color changes, structural shaping and even customized interior components. While the PDS line is always the most popular range for exterior modification, Armagard often receive requests to find solutions that require specialized technical help, which can often involve chemical and temperature management issues.
The Cable Car, Video Wall Enclosure: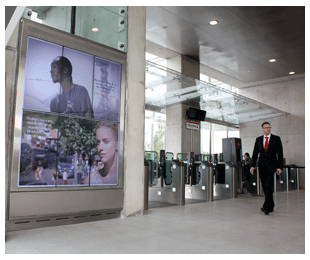 Providing several video wall enclosures for the new transport route across London, the new cable car lift named the 'Emirates Air Line', offers tourists and residents spectacular aerial views of the capital, passing famous locations like Canary Wharf and the 02 Arena, and reaching 300ft at its peak.
A prime location for tourists, the aerial lift became an ideal project for a new digital signage system, so Armagard, specialists in hardware protection for outdoor environments, were contacted to supply two custom semi-outdoor enclosures for the stations two, outdoor video-wall displays.
The enclosures, measuring in size at 165" and 105" allow the synchronised displays to attract maximum attention, while being adequately protected against any collisions and overheating issues, from vandalism and lengthy operating periods.
The Transit System, Double Enclosure: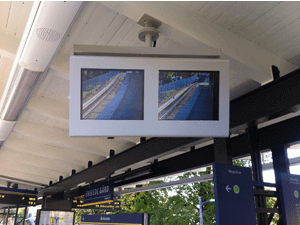 Designed for a local tube system in Enskede Sweden, this unique enclosure was designed to make it easy for passengers to read train times and updates directly from a semi-outdoor platform.
Using two small 19" monitors instead of a larger display, the double enclosures mounts displays side by side with a screen divider, to separate content and highlight the most important information to passengers.
Ceiling mounted and painted in an off-white, the double enclosure allows users to maximize the amount of content they can provide customers, and help in reducing customer service enquires and confusion during peak times.
Request a quote for unique enclosure solutions! »
The Petrol Station, Curved Portrait Enclosure: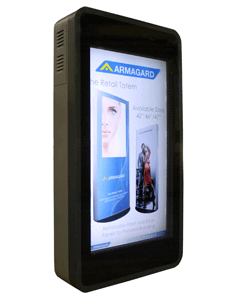 Installing 30 units across a French petrol station network, the curved portrait enclosure was needed for an indoor POS (point-of-sale) advertising system, that focused on a new aesthetic look that could attract and maximize audience attention.
A presentable and smart looking unit, the curved 42" portrait enclosure was a departure from Armagard's standard enclosure models, requiring a brand new design and fabrication process that could actually produce its signature curved frame.
Doha International Airport: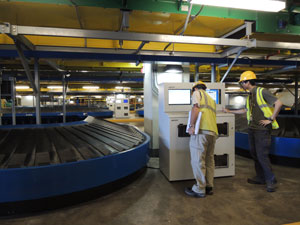 Located in the Middle East and situated on reclaimed land, Doha airport experiences a very hot ambient climate of +104°F, with also a large amount of dust and sand brought in from coastal breezes. However, as an 'open' structure these effects are often felt throughout the building's interior.
Therefore, as their standard electrical hardware just wasn't protective enough, the Doha team required a secure and weatherised check-in solution to withstand the harsh elements of the local environment.
As a result, Armagard designed and delivered 27 customized PENC enclosures that provided an air-conditioned cooling, with protection for a 21.5" monitor, a integrated server and two printers with forward facing access windows for paper retrieval.
Request a quote for unique enclosure solutions! »
Fuel Station Signage: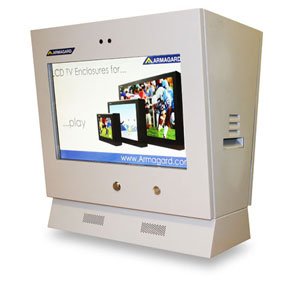 Designed for a customer who wanted to bring secure signage to their fuelling station area; the Gas station digital signage enclosure (PDP) from Armagard was crafted to deliver eye-level advertising without any risk to a customer's personal safety.
Equipped with dual 22" screens to advertise on either side of a fuel dispenser, the IP56/NEMA4 PDP enclosure utilises motion activated signage and sound to engage with stationary customers in this point-of-sale (POS) area; and serving to increase sales and return-on-investment (ROI) from outdoor digital signage.