Digital Signage for Banks: Improving the In-Branch Experience
Digital signage can transform the in-branch experience at your bank.
Even today, 90% of retail banking customers are won or lost in branches,1 but customers also expect services to be available online, on mobile and via self-service solutions.
Banks face the challenge of providing an in-branch experience that's simultaneously personal and efficient.
Digital signage enclosures help you meet that challenge, allowing you to install displays in any location to create an efficient environment that maintains the human element of great customer service.
Here's the insider's guide to using digital signage to satisfy customers, improve communication and win more business.
Improve the Customer Experience
Manage Queues—and Perceptions:
Research has shown that waiting to be served has a bigger effect on satisfaction than a delay while you're being served.2
This means a customer who gets served faster, but experiences a delay with the teller, will still be more satisfied than one who stood in line for longer, even if the overall time was the same.
Getting customers served quickly, then, is vital, but it's also important to manage their perceptions of how long they're waiting—and their expectations.
By using digital signage enclosures to install displays in waiting areas, you can boost customer satisfaction in two ways:
1. Use a ticketing system to show customers exactly where they are in line and which counter they'll be served at.
2. Engage customers with information and entertainment that makes the time pass quicker.
This simple application of digital signage is a quick and easy way to improve the customer experience, with digital displays proven to reduce perceived waiting times in retail contexts by up to 35%.3
It can be incredibly cost-effective, too. LCD/LED enclosures protect displays in public areas, allowing you to use your existing screens to improve the in-branch experience, without investing in expensive commercial displays.
Put Services in the Hands of Customers:
Many customers will already access your services online, and you're probably deploying self-service kiosks in branch to allow customers to independently carry out transactions.
However, there are other ways that digital displays can put services in the hands of customers, giving them an experience of your branch that's consistent with how they do the rest of their banking:
Wayfinding: Use touch screens to provide digital directories or interactive maps that help customers find their way to the right office or floor. Digital wayfinding allows customers to select their language, which increases the accessibility of your branch to non-English speakers.
Product information: By using touch screens, or by displaying QR codes/URLs on your digital signage, you can direct customers to more information without them having to wait for a member of staff. Coordinate your in-branch content with your external marketing to provide information about the products and services they're most likely to be interested in.
Interactive digital signage is more accessible than ever. The latest touch screen enclosures use projected capacitive technology to convert an ordinary display into an interactive surface.
This is a more flexible option than dedicated commercial touch screens. Purpose-built touch screens tie you into the specifications of the in-built display, and they can be difficult to repair, often requiring a specialist engineer to do so.
Touch screen enclosures, on the other hand, enable you to use an ordinary display, that you can remove, repair and replace whenever you want.
Enclosures also last for many years and can be used to protect several generations of display, meaning they offer an excellent ROI for your branch.
Touch screen enclosures make it easier than ever to deliver an in-branch experience that's consistent with the way many of your customers are banking online. You benefit from better efficiency, reduced demands on staff and improved perceptions of your bank.
Add a Human Touch
At the same time, you can use to digital signage to enhance and complement the all-important human element of great customer service.
Tell Stories:
Don't just tell your customers about your products, tell them about the people your products benefit.
Use your digital signage to tell stories about the couple who were able to buy their first home with your great mortgage rate, and the local business that started with one of your market-leading loans.
Content like this humanizes your bank in the eyes of your customers, communicating a more compelling message than facts and figures ever could.
Highlight Your Local Involvement:
Do you support a local charity, invest in local businesses or have involvement in a local school? Then say so!
Digital displays are an ideal way of highlighting your local involvement, improving your bank's reputation and increasing the loyalty of local customers.
Personalize the Experience:
What if you knew when a customer was approaching before they walk through the door? You could greet them by name and anticipate the reason for their visit.
In the bank of the future, mobile apps could work with proximity beacons to alert you to an approaching customer, allowing you to deliver a personalized experience as soon as they enter.4
Facial recognition and artificial intelligence are also being integrated into digital signage. This technology offers banks opportunities to deliver personalized, relevant content to individual customers based on their history.
Digital signage can be used to make people welcome, provide them with personalized services and present them with a relatable picture of your brand—which is all good for business.
Improve Communication with Customers and Staff
Digital displays attract over 400% more views than static ones,5 making them a great way to improve your communication with customers and staff.
It offers a number of benefits over printed signage:
Save time and money: Easily change your content to show the latest promotions, breaking news or your opening times for the holiday period. Update your content whenever you want, without the time and cost of reprinting and installing paper signage.
Provide multilingual content: Cater to foreign-language speakers by displaying multilingual content on a rolling loop.
Improve internal communications: Get the most of out your digital signage by using it for meetings after-hours. Install it in employee areas to display key performance indicators, the latest staff news and to celebrate your top performers.
You can receive these benefits no matter what the size and shape of your branch. Digital signage enclosures are available in a range of sizes and in wall mounted and free-standing options—ideal for attractive displays in lobbies, waiting areas, corridors and more.
You can maximize your outdoor space, too. Outdoor digital signage enclosures protect displays from extreme temperatures, wet weather and theft, allowing you to attract and engage customers while enjoying peace of mind about the security of your investment.
Build Loyalty and Win New Customers
For your bank, the bottom line is winning and keeping customers.
Any use of digital signage to improve customer service will help you achieve that goal, but there are a few particular ways that digital signage helps you attract more business.
First, digital signage is a proven marketing tool: One study found that 70% of 18 to 24-year olds were aware of the digital signage they'd seen in the last 12 months, with 27% of them taking action based on the adverts they'd seen.6
There's no better way of communicating your values, services and promotions in branch.
Second, it impresses customers. Place video walls, digital displays and touch screens in atriums and lobby areas for a great first impression. Display news feeds, live market data and current interest rates to show that your bank has its finger on the pulse.
Third, you can use it to build trust. Show behind the scenes content that reveals the human side of your bank and the real people that work there. By making your bank relatable, you foster the sort of trust that results in lifetime relationships with customers.
With the right enclosures, you can implement these solutions and receive these benefits in a cost-effective, flexible and secure way.
By using the displays of your choice, you save the money that you would have spent on purpose-built screens and start promoting your brand quicker.
At the same time, enclosures provide environmental and physical protection that maximizes the lifespan of your displays. Your digital signage operates with reduced downtime and minimal maintenance, generating a great ROI over many years.
An experienced enclosure manufacturer, like Armagard, can help you choose the best enclosures for your branch, or even design custom enclosures to fit your space.
Whatever you choose, you can increase the effectiveness of your digital signage with these tips:7
Match content to demographic: Find out when certain demographics use the bank and display the most relevant content at those times. With AI and facial recognition on the cusp of widespread use in digital signage, this is likely to get easier to do in the future.
Make the most of waiting areas: The average customer waits seven minutes in the teller line. That's your best time to engage their attention, simultaneously making the wait seem less and promoting your products and services.
Mix bank and non-bank content: Don't overdo it, though. Show content that informs or entertains from outside of the financial sphere. This keeps people watching until your bank related content rolls around. A ratio of 75% bank to 25% non-bank content could be an effective way of promoting your products and services, without going overboard.
Digital Signage Enclosures for Banks: Conclusion
Digital signage enclosures make it easier than ever to transform the customer experience in your branch, simultaneously increasing consumer satisfaction and improving your ability to win and keep customers.
Enclosures accommodate a range of displays, are available in a variety of sizes and provide complete protection for your screens.
You get the benefit of an efficient, attractive and low-maintenance digital environment that's good for customers and for business.
Want to use digital signage enclosures in your bank?
Contact Armagard for a no-obligation chat about the best options for your branch: Call +1-866-434-0807 or fill in a contact form.
Sources:
[1] Visible Banking
[2] Lin Y.‐T., Xia K.‐N., and Bei L.‐T. (2015), Customer's perceived value of waiting time for service events, J. Consumer Behav., 14, pages 28–40
[3] MVIX
[4] Julie Godfrey, Samsung
[5] Visible Banking
[6] Visible Banking
[7] From Jea Yu, Samsung

This post was written by Ben Telford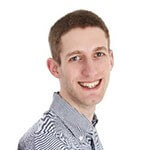 Ben joined Armagard as a copywriter in 2018. With previous experience of writing for a charity, he now assists in the production of Armagard articles, product pages and web copy. Ben Telford