How to Improve Workplace Communications and Productivity Using Digital Signage
Organizations of all sizes prefer email for workplace communications. However, workplace emails are an epidemic. With so many emails landing in inboxes, important internal communications can easily get lost in the clutter.
Workplace digital signage can help to improve workforce communications and productivity with convenient, relevant and interactive messaging...
The Problem with Workplace Communication and Productivity
Like 99 per cent of organizations, email is probably your preferred choice for workplace communications. However, according to Our Social Times1, the average worker receives 300+ emails per week, with internal emails often overlooked.
If you're wondering why email engagement rates are low in your workplace, it's because personnel suffer from email overload. Worse still, bulging inboxes have a knock on effect on workplace productivity, costing your business time and money.
In fact, the results of a survey published by The Independent2, show that too many emails stop personnel from getting work done. According to the poll, 61% of 2,000 office workers said 'reading and responding to an influx of emails prevents them from doing other tasks.' This is a common scenario in office settings...
...However, communication outside an office workspace suffers from an entirely different problem. In a warehouse, for example, access to email is practically non-existent, in which case, personnel miss out entirely on potentially important internal communications.
Results of a study, published by Forbes3, highlighted eight common causes of workplace demotivation, and poor communication was a top gripe among workers. Your employees value communication! In fact, a report published by EnPlug4 states that good internal communications increase employee productivity by as much as 25 per cent.
This potentially adds millions to your bottom line per year!
Workplace Digital Signage
In an effort to improve workplace communications and productivity, internal communications officers are using digital signage. According to a study referenced by Sixteen-Nine5, 50 per cent of internal communications teams use workplace digital signage to communicate with personnel across all departments.
Organizations adopting digital signage as part of an internal communications strategy often report significantly improved engagement with staff and a much more productive workforce. Here's why...
1. Digital signage declutters the email inbox – The Guardian6 reports that staff waste about 40 per cent of their time reading mass internal emails, most of which are irrelevant to them or their department.
Internal emails can include HR-related information or an update on key performance indicators (KPIs). However, rather than bombarding staff with a deluge of emails, you can display this information in a clear and concise way using digital signage.
It's a far more subtle and less intrusive way to get the message across to personnel, without adding to their already cluttered email inbox.
In extreme cases, organizations ban internal emails in favor of alternative international communication strategies, many of which involve digital signage.
2. Digital signage encourages employee interaction – Workplace digital signage allows internal communications officers to encourage two-way interaction. Studies show that 50 per cent of employees post about their employers on social media, representing a great opportunity to engage with staff.
You can display company social media feeds using digital signage, showing employee responses to posts, while building your internal brand. Enabling interaction via social media ensures that all departments have a voice and you can monitor employee morale.
3. Digital signage departmentalizes – Don't you hate mass emails that copy you in on something that's completely irrelevant to you or your department? Your workplace colleagues do to! Rather than having to send the dreaded, impersonal 'All Staff' email, you can departmentalize digital signage content.
Relevant departmental messages will drive engagement. You can personalize content to deliver communications that inspire and encourage each different department within the organization. For example, the CEO could directly address the HR department with a video message personalised to the HR team.
4. Digital signage is accessible – Key company messages are much more visible to personnel when displayed using digital signage and far more accessible to all. Employees have a tendency to miss, overlook or straight up delete internal emails.
While some staff might be 'in the know', others might be 'in the dark' until they read their emails. However, communicating your message using digital signage means everyone is privy to key information, almost instantly.
Meanwhile, a combination of visual, sound and text-based content, makes digital signage accessible for deaf or blind members of your team, too. Plus, you can present content in multiple languages if you have a multilingual workforce.
5. Digital signage develops staff – You can use digital signage for in-house training programmes, bringing teams together to develop their skills and bond. You can give presentations and stream live training sessions.
If your business has offices in multiple countries, digital signage is a great way to connect employees and make them feel part of the company family.
6. Digital signage reinforces – Where an email gets lost, ignored or deleted, key company messages can go unnoticed. Digital signage delivers consistent messaging that enables you to reinforce company values and guidelines, while celebrating your successes.
Subtle reinforcing of key messages keeps company communications open and ensures that personnel are working together to honor those values.
7. Digital signage improves company culture – Better communication with your employees creates a culture where personnel feel valued and respected. Digital signage encourages interaction, which means staff can add to the company culture.
For example, if your company has a family-orientated culture, digital signage is a platform personnel can use to share their family photos, to give their colleagues a glimpse of their life outside the workplace.
This enables your business to showcase its family values, while enhancing a workplace culture that your employees can really feel a part of.
The Rise of Digital Signage for Internal Communications
Digital signage is fast becoming part of internal communications strategies because of its convenience, interactivity, engagement and consistency. It's a powerful way to reach personnel across all areas of your business, whether they're online or offline.
Digital displays can play an integral part in optimising your workplace communications and enhancing productivity, keeping your personnel on the pulse of what's happening across your business, while decluttering their email inbox.
Ultimately, workplace digital signage has the potential to unlock millions in value for your business. By reducing your reliance on emails to communicate key messages, you enable staff to digest information quickly and conveniently without affecting productivity.
Equally, workplace digital signage gives your business multiple ways to communicate with personnel, building a better rapport and meeting their need for better communication – and isn't this the end goal for your company, internally? Workplace digital signage can certainly be a driver towards reaching this goal.
To discuss workplace digital signage solutions for your business, call +1-866-434-0807 to speak to an Armagard representative.
Sources:
[1] Our Social Times
[2] The Independent
[3] Forbes
[4] EnPlug
[5] Sixteen-Nine
[6] The Guardian

This post was written by Daniel Waldron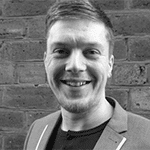 A dedicated writer for 15 years, Daniel joined Armagard in 2013. Daniel assists in the production of web copy, articles, blogs, press releases and white papers, for use by Armagard's marketing team. Daniel Waldron