Eye-Catching Drive Thru Design That Will Sell More Fast Food
Opening a drive thru lane at your quick service restaurant takes a lot of planning, involves a lot of red tape and requires a lot of capital. To make your money back, you need a Eye-Catching drive thru design that will actually entice patrons in order to boost restaurant revenues...
Drive thru design demands great attention to detail. Layout, accessibility, safety and adhering to local authority policies and procedures* should all be on your checklist. Making your money back should be a top priority too. After all, satisfying the demands of setting up a drive thru is costly.
To recoup your outlay, you need to increase fast food sales...fast . To do this, you need to incorporate a solution into your drive thru design that will actually direct more customers to the drive thru window. Enter digital drive thru menu boards, which can boost fast food sales by as much as 8 percent.
Proven to drive sales, QSR chains worldwide actually endorse drive thru digital menu boards because they can quantify the sale of menu items that occur as a direct result of a customer's engagement with digital illuminated drive thru boards.
Hypothetically speaking, drive thru digital menu boards serve as an extra member of staff, an alternative and additional way to upsell, cross-sell and pre-sell to your drive thru customers.
From an operational point of view, digital menus at the drive thru make dayparting easier, while enabling menu synchronisation, meaning your QSR can switch menus across every outlet in your chain, effortlessly.
What do you need to setup digital drive thru menu boards?
It's not as complicated as you might think. All you need is an LCD screen, a media player and outdoor screen protection in which to house your equipment - when combined it looks a little something like this...
...From a customer perspective, drive thru digital signage makes your menu easier to read, speeding up the ordering process and greatly improving order accuracy, all of which serves to improve the customer experience.
From your point of view, as a QSR operator, the presence of digital technology combined with improving the customer experience, significantly increases the chances of patrons returning on a regular basis, to the point where you would consider them a loyal customer.
Why should digital signage be part of your drive thru design?
Essentially, drive thru digital menu boards are the 'make your money back' guarantee when adding a drive thru lane to your QSR outlet. It pays for itself and eventually, it will cover the cost of your drive thru expansion.
If you're a QSR operator with a drive thru lane to work with, but no outdoor digital menu boards, it's not too late. One of the perks of drive thru digital signage is the customization options available to suit the specifications of your drive thru lane.
Discover the benefits of Eye-Catching drive thru design when incorporating outdoor digital menu boards. Download the ultimate infographic for QSR operators here…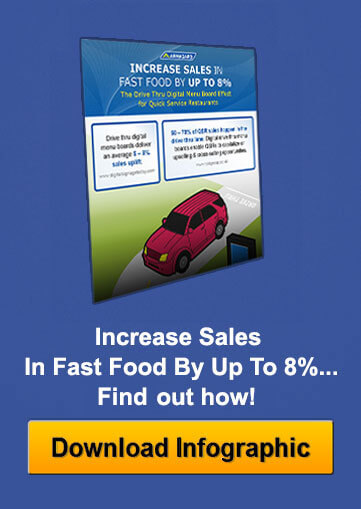 *To give you an idea of what drive thru design involves, the City of Markham council in California has done a very good job of outlining the policies and procedures that apply to drive-thru restaurant facilities in their ' Design Guidelines ' published in 2010.