Industrial Re-Revolution Accessible for Manufacturers Big and Small
Editor's note: This is a guest blog from our friends at Manufacturing Talk Radio. This content offers an insight into how the Industrial Internet of Things (IIoT) is redefining the manufacturing floor.
As technology advances, and new ways to innovate the manufacturing industry arise, an inherent issue exists that may stop smaller businesses from utilizing these new technologies. The underlying issue is cost and unfortunately, it is scaring people away from modernizing their business.
The Industrial Internet of Things (IIoT) can be used to increase efficiency in every facet of a business and is definitely a change that every manufacturer should start to make. With IIoT leading the charge and the Industrial Re-Revolution well on its way, many big name companies have already started investing in this technology.
Manufacturing Industry Investing Big in IIoT
In 2013, investors made over $1.1 billion worth of investments into the Industrial Internet of Things. Some of these investors include Google, GM and Ford. With more and more manufacturing companies making the switch to a fully connected workplace and big names buying into the technology, the IIoT is already becoming the mainstream way of managing in the industry
In 2012, a survey carried out by Forrester and Zebra Consulting stated only 15 percent of manufacturers had made the switch to at least one IIoT solution. As of this year that small percentage has skyrocketed to almost 63 percent of manufacturers either making the switch or planning the imminent switch to the new tech.
As far as start-up manufacturing businesses are concerned, these new solutions have led to savings of around 12 percent across the industry and has dropped maintenance costs by about 30 percent. This proves that the benefit of implementing IIoT into a business will far outweigh the initial investment.
But there's more to IIoT than saving money. The major part of this development is improving efficiency and many companies have already been reaping the benefits.
For example, Greg Conary, Vice President of France-based Schneider Electrics, has said that the three major areas IIoT can help global manufacturers are smart manufacturing, asset performance, and augmented operators.
In a statement he said "In the past, we did data mining after the fact, usually after the product left the factory. Today, we can have real time analytics on the status of plants, which lets us respond faster to opportunities in the marketplace as they arise, as well as contribute to product quality and asset availability." [Bit.ly/29ubCtE].
One of the ways Schneider Electrics helps the consumer achieve maximum asset performance is with a pump they provide that can be monitored digitally and will alert the owner if there is a problem.
Industrial Computer Enclosures
Nearly every manufacturer has at least one computer on the shop floor in today's modern manufacturing industry. These computers are essential for data collection, customer and product management, along with a wide range of different functionalities that are vital for today's business environment.
The workforce relies on these important pieces of technology to help create a smoother running facility and keep everyone informed. The digital revolution that the industry is currently navigating has made the industrial computer a necessary part of the factory floor.
Protecting these important machines is as critical as having them there in the first place. Just as a business would secure their private server, it is just as important for a business to protect their industrial computers. One of the more cost-effective and flexible ways to shield these systems is an industrial computer enclosure.
Armagard specialize in the design and manufacture of environmental computer enclosures. Built in-house, the units they make protect computers from a variety of damage threats associated with industrial operations.
The Industrial Re-Revolution is Shaping the Future
Knowing that these technologies can help any business big or small is an amazing way to keep the manufacturing community together. Making the change to these new technologies is not an easy task and industry leaders investing a lot of money into these advancements is a comforting notion for companies that may have been nervous to dip their toes in the water.
Manufacturing Day has just passed in the USA and it's important to remember that these younger generations thrive on new technologies. Utilizing these new systems can help improve a business while also making it more attractive to new manufacturing talent.
Integrating computers on your manufacturing floor to join the industrial re-revolution? Download a copy of Armagard's free resource, right here...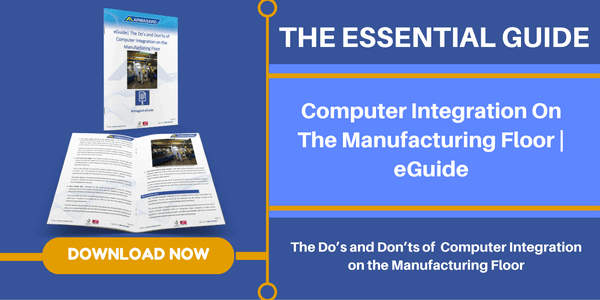 Sources:
https://www.industryweek.com/finance/financing-fourth-industrial-revolution
http://internetofthingsagenda.techtarget.com/feature/Five-IIoT-companies-prove-value-of-internet-connected-manufacturing
http://cerasis.com/2016/03/18/industrial-internet-of-things/
https://www.americanexpress.com/us/small-business/openforum/articles/7-things-every-business-owner-needs-know-internet-things/