Medical keyboard
Waterproof & washable keyboard with integrated mouse
Unlike conventional keyboards, our keyboards designed for medical and scientific use are constructed of durable, non-porous latex-free silicone rubber and are NEMA 4X rated. Keyboards are completely washable and have no recesses or crevices that can trap dirt or contaminants.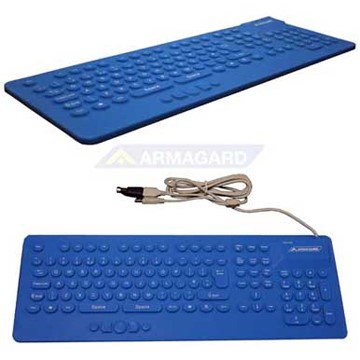 Washable Keyboard is perfect for:

Hospitals
Dental Practices and Labs
Pharmaceutical applications and environments
Clean room applications and environments
Scientific applications and environments
Quick View:

Size (WxDxH)mm:

17.6 x 7.1 x 0.7

Material:

Latex-free non-porous silicone rubber

Number of keys:

102

Operating Temp. :

-22°F to 176°F

Connector :

USB (PS/2 adapter included)

IP rating:

NEMA 4X
A medical and scientific keyboard combined with a waterproof computer enclosure provides total protection and usability.
Features & Benefits
Our medical and scientific keyboard is a perfect solution in any environment where contamination might be an issue. Rugged and durable, the keyboard will withstand regular cleaning with common medical disinfectants including CIDEX, alcohol and a 10% bleach solution. Can be used in keyboard trays up to 19 inches.
For full specifications & prices - Contact Us Now!
Specifications & Guarantees:
All Armagard keyboards/mouse are constructed according to International NEMA standards, guaranteeing protection from liquids and particulates. They also conform to European IP
Our guarantee:

5 Year Warranty on ALL mechanical parts
Quick delivery
Educated and helpful staff to assist you
Top quality engineering
14+ years of industry experience serving our customers