Trends in Outdoor Digital Signage and the Rise of Smart Cities
Outdoor Digital signage is a huge global industry:
In the USA, the market for digital out of home is predicted to grow to $12.3 billion by 2028.1
By the end of 2018, out of home digital advertising will have overtaken traditional advertising for the first time in the United Kingdom.2
The USA and Europe will retain the largest market shares for several years, but the Asia-Pacific region is expected to grow at the fastest rate due to the adoption of digital signage in the burgeoning economies of India and China.3
Whether it's roadside digital billboards, high-street digital totems or through-window touch screens, outdoor digital signage is becoming a familiar part of our city centres.
That's because companies increasingly understand that digital signage can be good for business. Whether it's being used to boost brand awareness, engage customers or deliver more efficient services, digital signage has the potential to generate revenue and cut costs.
Customers increasingly expect it, too. They recognise that digital signage can deliver services in a fast, personalised manner that saves time and, often, entertains.
If you're looking to integrate digital signage into your business, or expand and update your existing network, then it's important to keep track of the latest developments. Doing so helps you invest in digital signage that's cost-effective, future-proof and delivers a great ROI for years to come.
In other words, it's important to invest in trends not fads.
Here's your guide to outdoor digital signage trends that look set to stay—broken down by physical, technological and environmental developments that are changing the face of our urban spaces and leading to the rise of tomorrow's smart cities.
Physical Trends
Outdoor digital signage is getting bigger—much bigger.
In 2018, Samsung finished installing the largest curved display in South Korea. At a whopping 1,620 square metres, it's four times the size of a basketball court and took seven months to install.
With a resolution almost twice that of UHD, and a brightness capability of 9,000 NITS, it's a breathtaking demonstration of what's possible and, no doubt, a brilliant piece of brand promotion for the tech giant.4
On the other side of the globe, pop down to New York's Pier 17, in Lower Manhattan's Seaport District, to experience the visual extravaganza that is 2,000 square metres of outdoor LED screens.
Designed to help with the transformation of the area into a cutting-edge retail destination, the displays stretch across the columns, walls and ceilings of a two-story atrium, enveloping visitors in a futuristic shopping experience.
But while screens grow in one dimension, they shrink in another: the LED displays used at NYC's Pier 17 are just 4mm thick.5
Manufacturers are desperate to be known for making the thinnest screens with the slimmest bezels. This race isn't just about brands vying for the top spot—it delivers real benefits for the buyers of outdoor digital signage, too.
Thin screens with tiny bezels provide customers with a better viewing experience, but they're also lighter and more compact, meaning you can use them with greater flexibility in places where you wouldn't have been able to mount a screen before.
If the shift from 'box' TVs to flat screens facilitated the birth of outdoor digital signage, then ultra-thin screens will take it to the next level: immersive displays that can be mounted almost anywhere at increasingly affordable prices.
Thankfully, while displays at the cutting edge get bigger, there's still plenty of reason to measure your signage in inches rather than square metres.
After all, no matter how big screens get, people stay the same size, and engaging customers day-to-day is better achieved with displays that offer a personalised, user-friendly experience.
As such, a trend has emerged in favour of outdoor digital signage in the 32" to 75" range. These sizes are large enough to capture attention, but they're not so big that they become unusable or prohibitively expensive for businesses.
This trend is driven by two different approaches. The first uses purpose-built outdoor displays that are inherently waterproof. The second takes advantage of the cost and flexibility benefits of using ordinary screens in outdoor digital signage enclosures.
Outdoor enclosures last for years and don't tie you into a particular model of screen or a single technology. You can swap and upgrade the screen whenever you want, making LED/LCD enclosures the ideal investment for a future-proof digital signage network.
Technological Trends
The trend for 32" to 75" outdoor digital signage is driven by another factor: it's possible to get more technology into a smaller space, so you don't need a huge screen to provide customers with a memorable experience.
Digital signage technology is pushing into some incredible realms. Many of these developments are already here in some form, and those that aren't look set to become the new normal in coming years.
Responsive Displays
By responsive displays, we mean web-connected digital signage that adjusts its content according to real-world conditions.
For example:
A major route out of your city centre is blocked. Public information screens automatically switch from adverts for an upcoming event to the latest travel information just in time for rush hour.
A sunny morning changes to a wet afternoon. Your outdoor digital display adjusts its content to advertise umbrellas rather than sunglasses.
Responsive displays deliver the most relevant or helpful content at a given time, making them equally useful for digital advertising and public information.
The great thing is that this technology depends on the media player rather than the screen. The cost of new media players could be far less than that of new displays, making responsive technology a great prospect for businesses looking to stay at the forefront of digital signage trends without breaking the bank.
Facial Recognition and Artificial Intelligence (AI)
There was a time when the local storekeeper knew the name of all her customers. Those days are largely behind us, but facial recognition may be filling the gap.6
AI and facial recognition use historical data to draw correlations between customers and their interest in particular products and services.
For instance, facial recognition cameras enable displays to recognise a customer, greet them and suggest products or services based on their purchasing history.
Alternatively, AI can analyse the appearance of a customer and promote products based on their age, clothing or any other number of factors.
This technology promises to move outdoor digital signage from a passive medium to a personalised experience—much like touch screens have done in the last few years but in a more individualised way.
As well as driving sales in real time, facial recognition delivers audience analytics that can be retrospectively viewed:
How long did a person spend looking at the display?
What did they press or interact with?
What age and gender were they?
What were their facial expressions during their interaction with your signage?
Just as you track the demographics, dwell time and page views of your website visitors, it could soon be normal to analyse interactions with your digital signage in the same way.
The promise of a better experience for consumers, and data-driven marketing tactics for businesses, makes facial recognition a trend that looks set to stay.
Like responsive displays, the possibility of incorporating cameras and software into existing displays will be an attractive one for businesses looking to engage customers with their current digital signage network.
Haptic Technology
Haptic technology could be the next big thing. It uses one of a number of technologies to convince a user's brain that they're touching something with shape and texture, transforming a one-dimensional display into a truly sensory experience.
One approach uses electrostatic fields to reproduce tactile sensations on digital screens.7 An alternative uses ultrasound waves to produce tactile, 3D sensations in mid-air.8
The market applications of these technologies are numerous. Want to know how one item of clothing feels compared to another? No problem. Electrostatic technology can be integrated into digital signage to give customers a realistic indication of texture and help them make a purchasing decision.
Haptic technology may be the next thing brands draw on to engage customers. The promise is that sensory experiences stick in the memory, delight customers and forge a lasting impression of your brand.
Of all the trends here, haptics is in the earliest stages. Nonetheless, manufacturers are rolling out better technology all the time, which makes it a viable option for businesses that want to stand out from their competitors with something that's genuinely cutting edge.
At the very least, its potential to be integrated into your existing digital displays makes haptic technology something to keep an eye on in the coming months and years.
Advances in Media Players
It's easy to assume that the most important trends in outdoor digital signage are a result of new screen technologies, but advances in media players are just as significant.
For instance, while the scale of Pier 17's digital signage network is impressive, the way that the content can be controlled is just as important. Individual screens can display completely different content, or the whole network can be combined to act as a single, synchronised digital canvas.
This functionality is a crucial part of delivering an engaging customer experience. It also allows the owners to use the displays in the most profitable way at any given time.
Trends in media players also reflect a desire for convenience. Many displays feature media players that allow remote control of content. This allows you to install digital signage further away from your business, generating greater brand awareness without the inconvenience of frequently attending each display in person.
Advances in media players don't grab headlines, but they're important from a business point of view. Many of the latest digital signage technologies can be integrated into existing displays with, in part, an updated media player.
As such, when it comes to getting on board with the latest trends, investing in new media players can be far more cost-effective than replacing your whole digital signage network.
Environmental Trends
Thankfully, trends in outdoor digital signage aren't only driven by consumerism and experience. Environmental concerns are also having an impact.
The environmental benefits of existing digital signage solutions are well known:
Less paper waste as businesses move away from static signage that must be frequently reprinted.
A reduction in the carbon footprint associated with the manufacture and shipping of paper signage.
Reduced use of the chemicals, inks and adhesives used in the printing process.9
But how are environmental concerns affecting the outdoor digital signage of 2019 and beyond?
Primarily, we're seeing huge leaps in efficiency, leading to a new breed of low-power outdoor digital signage that delivers cost and environmental savings.
Outdoor screens increasingly feature intelligent brightness controls, which automatically dim the screen on cloudy days and at night. These displays are far more efficient than those of the past, and it surely won't be long until we see this as standard on all outdoor monitors.
You can also get on board with eco trends by choosing screens that don't require additional heating or air conditioning. By using less energy, these displays offer a lower total cost of ownership, making your outdoor digital signage good for business as well as the planet.
Advances in media players deliver similiar environmental benefits. Digital signage with media players that turn the screen off automatically save electricity, and screens with embedded media players use less energy. Again, the focus is on reducing energy consumption and knocking some digits off your electricity bill.
Environmental trends are sure to continue, especially as business owners realise that going green generates extra revenue: 66% of consumers are willing to pay more for products from companies that are committed to a positive environmental impact.10
Whatever your motivation, it's reassuring to know that trends for bigger, better and more immersive digital experiences don't have to be at the expense of the planet.
Outdoor Digital Signage and the Rise of Smart Cities
There's no doubt that outdoor digital signage is changing the face of our towns and cities.
This isn't just about businesses trying to boost revenue; it's part of the shift to smart cities that urban planners believe is necessary to accommodate growth.
As of 2018, 55% of the world's population live in urban areas. This is set to rise to 68% by 2050. That's an extra 2.5 billion people looking for homes, services and jobs in our already crowded urban centres.11
Smart cities are defined as those that use technology to improve services and become more efficient.12 As outdoor digital signage develops in line with physical, technological and environmental trends, it looks set to be a key part of this.
There are already examples of outdoor digital signage improving life in our urban areas:
Delivering Better Services
Self-service digital signage is increasingly common. Touch screen kiosks are used in all sorts of contexts to reduce strain on service providers and improve customer service:
Interactive wayfinding kiosks
Self-service ticket machines
Through-window retail touch screens
Drive-thru self-ordering displays
Facial recognition could be the next step for self-service digital signage—KFC in China are already experimenting with displays that suggest meals based on a customer's gender and age.13
Some of China's public services are also being delivered with the technology, including law and order. In Shenzen, outdoor facial recognition displays are used by police to monitor intersections and identify jaywalkers with greater efficiency than police could achieve in person.14
Keeping People Safe
In the USA, outdoor displays have become a crucial source of information during hurricane season—a great example of digital signage being turned to non-commercial ends in times of need.
By using existing digital signage networks, authorities can provide weather alerts across multiple states with a delay of only a few minutes between updates.15 It's surely not long before we see digital signage being used in times of crisis in cities all around the world.
Improving Quality of Life
Smart cities aren't only about efficiency, safety and better services, digital signage technology can make our urban centres a nicer place to live, too.
The city of Bentonville, USA, recently swapped some of its static billboards for digital ones. Because digital billboards allow multiple advertisers to share the same space, for instance, on a rolling loop of content, the city was able to reduce the overall number of billboards and improve the look and feel of the area. 16
Trends relating to the physical, technological and environmental features of outdoor digital signage allow businesses and governments to deliver better services to larger numbers of people.
These trends, and their benefits, all but guarantee the continued growth of outdoor digital signage in our urban centres and daily life.
Thankfully, businesses can adopt these trends and engage more customers without breaking the bank:
No matter how big displays can get, engaging customers day-to-day will still be done with signage that's user-friendly and accessible.
Many of the most important technological advancements can be retrofitted into your existing digital signage network.
Improvements in the environmental impact of screens mean that adopting digital signage can be good for business as well as the planet.
If you're not already integrating outdoor digital signage into your business, then it's time to think seriously about doing so.
By paying attention to trends, not fads, you can do so in a way that's cost-effective, future-proof and delivers a great ROI for years to come.
To find out more about outdoor digital signage, and to get a quote for your project, call Armagard on 1-866-434-0807. Here are 25 questions answered about how we can help with your outdoor digital signage network rollout.
Sources:
1 The Drum
2 Digital Signage Connection
3 Polaris Market Research: Digital Signage Market 2017-2026
4 AV Magazine
5 Sixteen:Nine
6 Digital Signage Today
7 Tanvas
8 UltraHaptics
9 Now Signage
10 Nielsen
11 United Nations: 2018 Revision of World Urbanization Prospects
12 The Guardian
13 Watchfire
14 The Guardian
15 L'Atelier BNP Paribas
16 Northwest Arkansas Democrat Gazette

This post was written by Ben Telford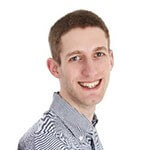 Ben joined Armagard as a copywriter in 2018. With previous experience of writing for a charity, he now assists in the production of Armagard articles, product pages and web copy. Ben Telford