Audio-Visual Solutions for Digital Signage: A Basic Guide for AV Specialists
Audio-visual equipment forms the foundation of any digital signage application. Screens, media players and software are integral to bringing digital signage networks to life, which is why choosing the right audio-visual solutions for digital signage installations is crucial.
Every digital signage application is different, but the basic audio-visual equipment needed to bring a digital signage network to life consists of nothing more than a screen, a media player and software.
The Screens
Screens, although a crucial piece of audio-visual equipment for digital signage applications, they are arguably the most difficult to get right. Why? There's so darn many to choose from! Most end-users have no idea where to begin… it's down to you, as the AV specialist, to advise them.
LCD and LED displays are widely used for digital signage applications and there are thousands of them on the market. To work as part of a digital signage network, screens need to be robust – capable of repelling the weather (if used outdoors), vandals and thieves.
Additionally, screens need to be compatible with media players and software. Plus, they need to look good aesthetically.
It's tempting to turn to the big name providers to find a screen solution, but a word of warning, brand names aren't always best. Some screens manufactured by the world's leading providers lack the necessary features for digital signage applications. For example, some can't be used in direct sunlight.
When sourcing LCD or LED screens for your customers, bear in mind that LED screens are far more efficient. They use less power, emit less heat and are lighter and slimmer than their LCD counterparts. However, all these features come at a cost when compared with LCD screens, which you can source at a much lower cost than LED displays.
Screen Resolution Matters
For digital signage applications, screen resolution matters. Supplying digital displays with a higher resolution means end users can display more content.
Arguably, 1080p screens lead the way in the market in terms of value for money. 720p screens limit the amount of content than can be shown, while 4K screens are still priced at a premium. 1080p screens are a solid, mid-range solution to recommend for digital signage applications.
Screen Size Matters
The size of the screen(s) must suit the digital signage application. Too small and digital displays will lack impact. Too big, customers can end up overspending on screens they don't need.
Generally, 42 – 55 inch screens are a good starting point when recommending display sizes, but bigger options are available. However, the type of application will ultimately determine the screen size that you recommend to customers.
Screen Aesthetics
As well as functioning practicality, digital signage has to look good. The look of a screen is determined by the bezel. The bigger the bezel, the bulkier a screen looks. Equally, if the bezel is large, less of the screen is showing.
Thinner bezels are more aesthetically pleasing, but a better appearance comes at a higher price, something else to be aware of when recommending screens for digital signage applications.
Media Players and Software
In addition to the screens, media players and the right software are key to audio-visual solutions for digital signage applications. Recommending the right media players and software will enable end users to optimize the layout of their content in accordance with the specifications of their screen(s).
When recommending digital media players, 'plug and play' options are the best solution. Web-connected media players are definitely worth suggesting as they enable end users to remotely access their digital signage displays 24/7 to make content updates at any time, provided they have the right type of software.
There are two types of software available to drive media players:
1. Desktop applications (Windows, Linux and Android).
2. Web applications (Networked Local Server, Stand Alone or a Central Server).
Web-based applications tend to be the preferred option for end users in the current market. With a web application, there's no need for an end user to install anything, they simply sign into an online account and manage their digital signage displays from any computer or mobile device from anywhere in the world.
Audio-Visual Solutions for Digital Signage in Demand
With the digital signage market growing year after year, the expertise of audio-visual specialists is in demand. While many businesses know that they need audio-visual solutions for digital signage applications, they don't always know where to start or have the expertise to make it happen. Now you're armed to offer some much needed guidance.
Choose Armagard for Audio Visual Digital Signage Solutions
With more than 100,000 enclosures in use across 50 countries, Armagard has 25 years' experience providing protective solutions for audio visual equipment used for digital signage networks. Talk to the enclosure specialists today... call 0121 608 7226.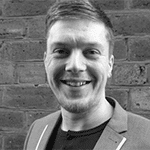 Head of Content at Armagard, Daniel has authored high-profile blogs on the latest topics and trends across the digital signage industry. Daniel's content features in Digital Signage Today, AV Magazine and more, offering thought leadership, commentary and insights on all things Digital Signage.