Fully Waterproof, Washable Keyboard
NEMA 4X keyboard with integrated mouse
Constructed of non-porous, latex-free silicone rubber, our NEMA 4X keyboard is completely waterproof and washable and has no recesses or crevices that can trap dirt or contaminants.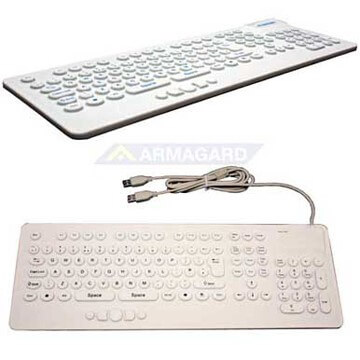 Washable Keyboards are perfect for:

Clean room applications
Pharmaceutical applications
Hospitals
Dental practices and labs
Factory floors
Quick View:

Size (WxDxH) Inches:

17.6 x 7.1 x 0.7

Material:

Latex-free non-porous silicone rubber

Number of keys:

102

Operating Temp. :

-22°F to 176°F

Connector :

USB (PS/2 adapter included)

IP rating:

NEMA 4X
A washable keyboard when combined with an industrial computer enclosure provides total protection and usability for your computer system in any wet or harsh environment.
Features & Benefits
Rugged and durable, the keyboard will withstand regular cleaning with alcohol and a 10% bleach solution as well as other industrial strength cleaning agents. Washable keyboards are perfect anywhere contamination is an issue. Can be used in keyboard trays up to 19 inches.
For full specifications & prices - Contact Us Now!
Specifications & Guarantees:
All Armagard keyboards/mouse are constructed according to International NEMA standards, guaranteeing protection from liquids and particulates. They also conform to European IP
Our guarantee:

5 Year Warranty on ALL mechanical parts
Quick delivery
Educated and helpful staff to assist you
Top quality engineering
14+ years of industry experience serving our customers