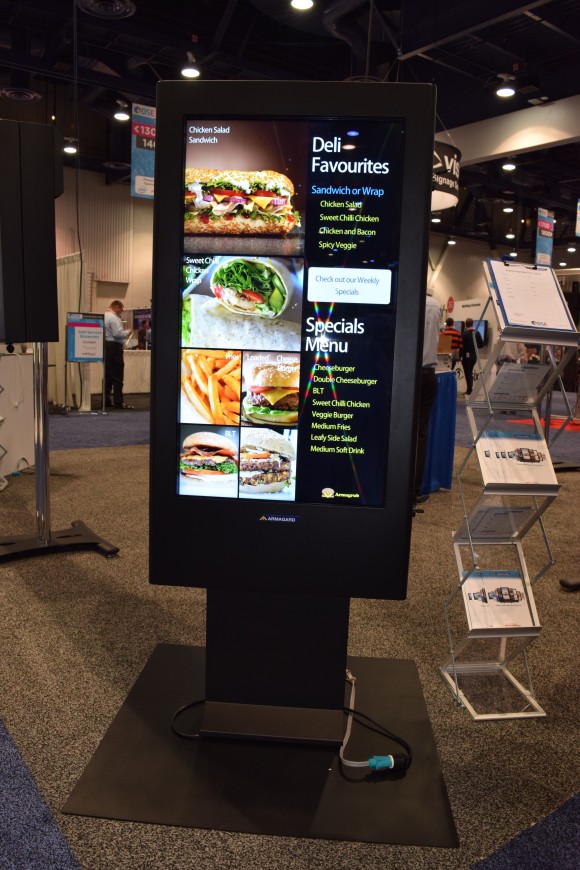 Wrestling with the idea of digital menu boards for your restaurant? Concerned about costs? Worried that you could be 'biting off more than you can chew?' Discover the benefits of going digital with your menu.
Digital menu boards are a hotly debated topic across food industry forums. In fact, Armagard has been following a recent forum thread on chippy-chat.co.uk, with QSR owners airing their views on whether making their menu digital would be advantageous or disastrous.
Perhaps not surprisingly, cost was high on the agenda. Those restaurant owners who had taken the plunge regarded the installation of digital menu boards as a wise investment. Those still wrestling with the idea highlighted cost concerns.
The Benefit of Digital Menu Boards
If you are unconvinced that digital menu boards can work for your restaurant, here's your opportunity to explore the benefits experienced by restaurants that have embraced digital.
It's not a secret that digital signage requires an initial investment, in fact, Armagard's research found that restaurant owners on chippy-chat were quoted anywhere between £1,000 (approx. $1,500) & £7,000 (approx. $10,000).
But, here's why price shouldn't put you off. A recent infographic highlights that 11.5% of QSRs in the USA recoup their money within 6 months of installation. Here's a percentage breakdown of the average time it takes for restaurants to retrieve their initial investment:
0-6 months – 11.5%
7-12 months – 30.8%
13-18 months – 26.9%
19-24 months – 19.2%
24+ months – 11.5%
The fact is, you stand to make your money back relatively quickly. The money you make beyond that becomes profit. What will interest you is the sales boost experienced by those restaurants highlighted in the infographic. This could be you!
Those restaurants that have installed a digital network often refer to the cost saving they make. Replacing printed menu boards with digital displays is where QSRs experience a colossal cost saving.
Where hundreds of dollars used to be spent to change or add an item to menu posters, incurring print run costs, digital menus can be manually or automatically updated with no extra expense.
Operational Perks
US restaurant chain? New food laws mean that restaurants with 20 or more facilities must show the calorie count for each food item on the menu. Digital menu boards allow you to easily display these, eliminating the cost to reprint all your menus & bringing you into compliance with the law.
You can up-sell new menu items with an eye-catching display. Competition for customer attention is rife & the best way to 'get eyes on your menu' is to showcase your food with digital video displays. What better way to whet appetites than with a full HD video presenting steaming hot food from your menu. Mmm…hungry anyone?
Digital menu boards are convenient. Tired of endlessly faffing with printed posters, putting them up & taking them down? Save your business and staff, time. Digital gives you complete control from a central point. This is particularly beneficial if you have multiple restaurants, you can update all menu boards all at once.
You can adapt your menu. Do you serve breakfast, lunch & dinner? Make menu changeovers a thing of the past. Control everything digitally to suit the time of day.
Improve the customer experience. Digital reduces perceived waiting times, provided you're displaying engaging content. Satisfy your customers, potentially sell more.
Create consistency. From a visual perspective, digital signage displays give you consistency. Displays are timely and up-to-date, whereas static posters take time to erect or simply remain in the storage room.
When is a menu not a menu? During an emergency. Turn your menus into an exit guidance system or information board in emergency situations, it could save lives.
Entertain. Your digital menus can be used to entertain customers. Throw in a few promotions and tasty looking menu items to drive sales and encourage guests to return.
Train. Diversify your digital menu board(s) and use them to train staff, in-house, when out-of-hours.
Save the planet & save money. Compared to posters, digital is greener and more cost-effective. See the savings you make when you cut printing, delivery, installation & disposal costs, out of the equation.
An Opportunity
Drive-thru restaurant owner? Then you're in a particularly unique position. That infographic we keep referring to shows that 70% of QSR sales are generated by the drive-thru. However, just 27.3% of drive-thru facilities have installed digital menus. Here's your chance to take advantage and we've got just the product for you!
Say Hello to the Drive-Thru Restaurant Totem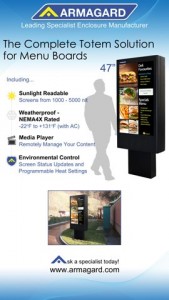 The unique outdoor digital signage totem is available as an all-in-one solution, featuring a 47" screen, media player and a powder coat mild steel enclosure.
You do not need to source hardware separately, keeping your costs down and saving you time.
This fully outdoor-ready display is the perfect tool for improving the drive-thru experience. Plus, this unit has immense earning potential enhancing its total cost of ownership appeal – Watch the product promo video.
Interested in an Indoor Solution? 
The digital poster is the practical progression away from static menus & signage.
This all-in-one solution comes complete with screen and media player, keeping your costs down.
You can display your menu as a JPEG image, play videos and audio. All that's required is a memory card and this display will instantly play content from the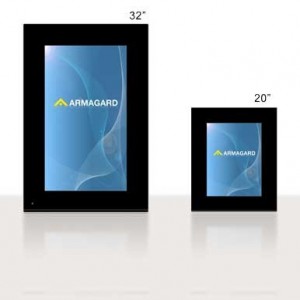 card.
Put Digital on the Menu 
From our point of view, the benefits of installing digital menu boards do outweigh the concerns.
Digital is quicker, time & cost effective and greener.
Looking at digital as a whole, every area of life is heading in the direction of digital.
It's worth noting that the digital signage revolution is not confined to transforming the food sector, it's spreading to every sector.
Our message is simple – 'don't get left behind'.
If you're still uncertain, speak to Armagard for professional guidance.
We've been in the business for over 20 years, adapting to trends to deliver outstanding digital signage solutions. 
Pick up the phone today. You will get us on 1-866-434-0807.