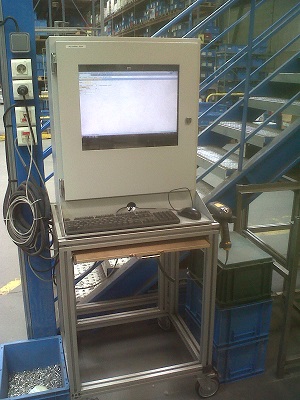 Equipment downtime leads to delays, delays could mean failure to deliver, which results in a hit to your reputation and perhaps loss of repeat business.
The good news is you can fight back against downtime by installing your very own Industrial LCD Monitor Enclosure.
If you like your reputation, don't enjoy losing money and don't want your competitors to steal the edge in the market, reducing the risk of downtime will keep the odds stacked in your favour.
Complete versatility and value for money
Compared to a dedicated industrial PC system, the Industrial LCD Monitor Enclosure represents great value for money. In fact, long-term this unit will save you money in more ways than one:
First, imagine never having to pay a computer repair bill or an engineer call out fee ever again.
Secondly, it can protect your current equipment, you don't need to spend on a brand new computer system.
Thirdly, should your current computer equipment come to the end of its useable life, you can use it to protect the next generation.
Over a period of 10 years, which is the standard lifespan of the unit, you will reap a monetary saving above and beyond the cost of your initial investment.
Additionally, the Industrial LCD Monitor Enclosure offers incredible versatility and flexibility. The unit can be wall or stand mounted, creating space in work areas that are congested. It also means that you can position computer equipment out of harm's way.
If you need a unit that's flexible, let's say for the purpose of upgrading equipment, this unit offers flexibility in abundance.
You can upgrade hardware at your convenience to keep up with technology rather than buying into an industrial PC system that you will probably have to purchase with an added maintenance package cost.
What you're getting with the Industrial LCD Monitor Enclosure
The Industrial LCD Monitor Enclosure will be a money-saving asset to your business and allows the use of, what is essentially office equipment, in more unorthodox environments.
Manufactured using powder coated mild steel, the product has been rigorously tested and carries a NEMA 4 industry rating. It's delivered as seen, requiring no assembly on your part and minimizing installation times.
For your peace of mind, the product is covered with a five-year warranty, leaving you with everything you need to safeguard your production-line, prevent profit loss and stay ahead of your competitors.
All that's left for you to do now is order yours. Call 1-866-434-0807, now – Monday to Friday, 8am – 5pm