7 Ways to Make the Most of Your Multi-Screen Digital Signage
Multi-screen digital signage is a great way for businesses to engage customers and boost brand awareness. A little planning can enhance its effectiveness even further, ensuring you enjoy the greatest ROI.
Here are seven simple ways to make the most of your multi-screen digital signage.
1. Show Different Content Simultaneously
Multi-screen digital signage enables you to engage several people at the same time.
In a theme park, for instance, a triple-screen display allows you to simultaneously show food offers, ride information and show times. This provides information to multiple people with different interests, and it boosts revenue by reaching more people with a greater range of adverts.
Whatever your business, you can make the most of multiple screens by using them to display diverse content that engages more customers at the same time.
2. Position It in the Best Location
Maximize brand awareness by placing your digital signage in the most strategic areas. After all, it doesn't matter how good your content is if people never see it.
Where People Wait
Multi-screen digital signage is effective anywhere you've got a 'captive' audience. This includes drive-thrus, waiting rooms, lobby areas and queues in stores and theme parks.
Digital displays have also been shown to reduce perceived waiting times by up to 35%,1 meaning you can improve the customer experience and promote your brand at the same time.
Where People Travel
By attracting 400% more views than static signage,2 digital displays are also effective in high-traffic areas.
Build your brand in public areas with a variety of high-visibility digital signage solutions:
Roadside digital billboards
Downtown digital signage totems
Shopping mall digital advertising
Through-window touch screens
Where People Make Buying Decisions
40% of people say that digital signage affects what they buy,3 so place it at points of sale and near large product selections to make the most of its ability to influence customers.
You can provide information, promote a product or highlight your latest offer. Whatever you choose, you help customers choose the best products for them, and you drive sales.
3. Use Displays That Look Great in Any Weather
Ensure your digital advertising is readable and engaging in all weather.
This is particularly important when using outdoor screens. Bright sunlight can overpower displays that aren't up to the job, making your content almost invisible.
The solution is simple—use high-bright digital signage with a suitable NITS rating. These screens are bright enough to stay readable in direct sunlight so that your digital advertising is always doing its job.
Sunlight-readable displays are also likely to feature UV and temperature protection, which reduces the risk of black-spots, overheating and downtime.
By using digital signage that works reliably in any weather, you can engage customers and build your brand all year round.
4. Keep Your Content Up to Date
Maximize the impact of your digital signage by keeping your content fresh.
Thankfully, managing multiple screens is as easy as managing one. With a good content management system, you can schedule content to change automatically. This means you can create a playlist and forget about it while you focus on the other tasks of your business.
You can also choose screens with media players that allow you to control content remotely. This functionality means you can update your advertising whenever you want, without the time and hassle of attending to your digital signage in person.
The right digital signage software and hardware makes it easy to display fresh, brand-boosting content on a regular basis, ensuring your digital advertising always has the greatest impact.
5. Consider Smart Technology
The latest technology offers a number of ways to increase the effectiveness of your digital signage.
First, internet connected displays allow for responsive content that changes according to real world conditions. For instance, if a sunny morning changes to a wet afternoon, your display can adjust its content to advertise umbrellas rather than sunglasses.
Second, facial recognition and artificial intelligence can analyse the appearance of a customer and dislpay the most relevant products based on their age, gender or other factors.
Finally, the same technology allows you to analyse and improve the effectiveness of your digital signage according to several variables:
How long did a person spend looking at the display?
What did they press or interact with?
How old were they?
What were their facial expressions?
Smart digital signage looks set to become the new normal in the coming years. By getting onboard with this trend, you can provide customers with a better experience and boost the effectiveness of your digital advertising.
6. Attract Third-Party Advertising
Generate extra revenue by selling space on your multi-screen digital signage to other businesses.
This can be particularly profitable if you have a network of displays within an attraction, as businesses will be keen to pay for the opportunity to promote their brand to large numbers of people.
However, multi-screen digital signage is ideal for third-party advertising whatever your business. By having several displays, you can generate revenue from other businesses while still displaying your own content.
Alternatively, sell all of your advertising space to make the most of your digital signage when you're not using it.
7. Protect Your Investment
Get the greatest ROI from your multi-screen digital signage by ensuring it lasts as long as possible.
An outdoor digital signage totem protects components from bad weather, physical damage and theft. You enjoy peace of mind about the security of your investment, and you extend the life of your screens to their maximum.
Multi-screen digital signage provides a range of brand-boosting benefits, and a bit of strategic thinking can enhance its effectiveness even further.
Armagard has more than 25 years' experience helping businesses get the most from their digital signage.
Call +1-866-434-0807, or fill in a contact form, for advice about choosing the best solution for you.
Sources:
[1] MVIX
[2] MVIX
[3] Cisco
This post was written by Ben Telford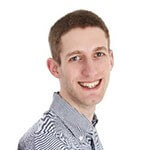 Ben joined Armagard as a copywriter in 2018. With previous experience of writing for a charity, he now assists in the production of Armagard articles, product pages and web copy. Ben Telford