How To Keep Your Outdoor Digital Signage Enclosure Viewing Window Clean
As the frontline defence for your AV equipment, outdoor digital signage enclosures keep dirt, dust and airborne debris away from your screens and media players. However, dirt can build-up on the enclosure itself. For now at least, enclosures aren't self-cleaning, so here are some top tips for keeping yours shipshape!
Most outdoor digital screen enclosures, used across various industry sectors, are self-sustaining. Technological advances mean that things like thermal management and on-off functionalities operate automatically or can be controlled remotely. Once installed, outdoor-ready enclosures require very little maintenance.
You can rest-assured that your screens, media players and other electronic hardware are well-protected. However, while screen enclosures shield AV equipment from the elements, they bear the brunt of everything an outdoor environment can throw at it.
Enclosures are incredibly hardwearing, yet over time, dust, dirt and nature's surprises – i.e. bird droppings – can accumulate, especially on the viewing screen. However, because of the operational efficiency and reliability of outdoor enclosures, it's likely that you're not checking them on a regular basis and when you do, chances are they're a little grubby.
Why You Should Care About Keeping Outdoor Screen Enclosures Clean
Regular cleaning is a must, for one crucial reason… visibility. Much like having high bright screens to improve digital signage visibility in sunlight and in the dark, cleaning your enclosure viewing windows consistently, prevents the build-up of dust and dirt, which can make what's on your screen display, illegible.
Keeping your outdoor digital signage enclosures clean is good for your image, too! After all, no one wants to interact with outdoor screens covered in bird droppings or thick with dirt. A clean and tidy digital signage system reflects better on your business.
With that in mind, here's how to clean polycarbonate or glass viewing windows on your enclosure, with care:
1. Use generous amounts of lukewarm water to rinse the enclosure viewing window, softening any dried-on dirt or bird droppings.
2. Use a cleaning solution consisting of lukewarm water and ordinary household cleaner or a mild soap. Use this to wash the viewing window with a sponge or soft cloth (do not use old or microfiber cloths as they hold grit, which can scratch the polycarbonate), gently removing dirt and grime.
3. Lightly rinse the viewing window with clean, tepid water and repeat washing if necessary.
4. After a final rinse, dry the viewing window with a soft cloth.
Cleaning glass or polycarbonate requires great care, to prevent scratches and protect structural integrity. With that in mind, never:
1. Use brushes, abrasive materials (i.e. steel wool) or sharp tools to clean the viewing window. Doing so will mark the surface.
2. Steam clean or use a pressure washer.
3. Apply solvents, acid or alkaline cleaners or thinners.
4. Use abrasive blasting.
5. Use acetone, petrol, benzene, or solvents containing Butyl Cellosolve or Isopropanol.
The majority of outdoor digital signage enclosures come with a warranty, but incorrect cleaning of an enclosure's viewing window can result in damage, which is likely to render any warranty null and void.
The bottom line? Be extra careful when cleaning your enclosure… not only to protect your warranty, but to maintain the integrity of the unit. If this is compromised, it could result in irreparable damage to your AV equipment.
It's recommended that you're intentional about enclosure cleaning. The best advice we can give is to introduce a comprehensive cleaning process and checklist. Cleaning should take place on a regular basis, with the checklist serving as a record of any cleaning that has taken place.
Do you have questions about outdoor digital signage enclosures? Talk to an Armagard expert, today. Call 1-866-434-0807 or complete a website contact form and we'll get back to you!
This post was written by Daniel Waldron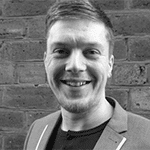 A dedicated writer for 15 years, Daniel joined Armagard in 2013. Daniel assists in the production of web copy, articles, blogs, press releases and white papers, for use by Armagard's marketing team. Daniel Waldron