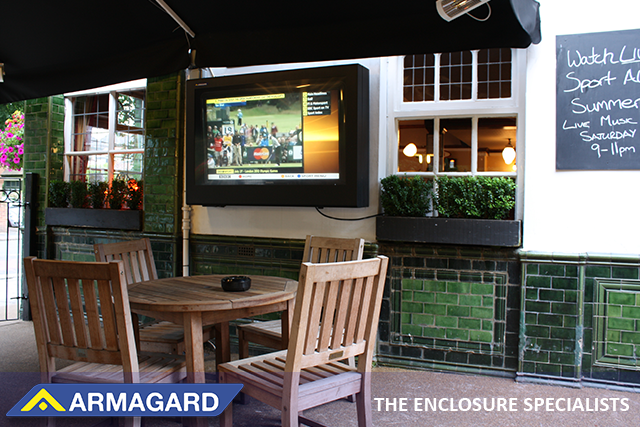 TV technology has improved rapidly in recent years. Slimmer, lighter and better screens are now found in a range of domestic and commercial environments and in outdoor locations. These outdoor TVs need protection from the weather and from physical damage, which is why outdoor TV cabinets are so popular with home and business owners.
Here's an introduction to the protective features of outdoor TV enclosures and the benefits for homes and businesses.
Complete Protection For TVs in Any Environment
Wall-mounted outdoor TV cabinets allow you to use a standard, indoor screen outside. They do this by providing effective protection from weather, theft, and physical damage.
First, outdoor TV enclosures typically carry an industry-standard rating, such as NEMA 4, that guarantees protection from rain, snow, and windblown dust. In addition, they have internal climate controls that stop the screen overheating in summer or freezing in winter. This allows you to leave a TV permanently installed in the enclosure whatever the weather.
Second, wall mounted outdoor TV cabinets provide protection from theft and tampering. Key-operated locks prevent unauthorized access, and robust mounting brackets and bolts secure the unit to the wall, so it can't be removed.
Finally, TV cabinets are manufactured from steel and have a robust, shatterproof window. The screen is well protected against accidental damage and physical impact, such as a ball hitting it in a backyard or vandalism in a public area. This allows you to install a TV in public or unattended locations with confidence in the security of your investment.
Contact Armagard to discuss the best weatherproof TV enclosure for your requirements.
Outdoor TV Cabinets For Businesses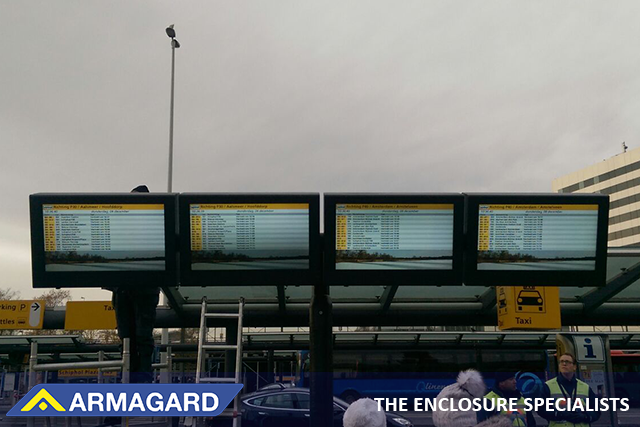 An outdoor TV enclosure allows businesses to enjoy the benefits of an outdoor screen without the cost of a purpose-built weatherproof TV. An enclosure can protect additional hardware, too, like media players, so businesses get a complete outdoor solution.
The applications are almost unlimited. One of the most common uses of an outdoor TV cabinet is digital advertising. Any business can increase brand awareness and boost customer engagement with outdoor digital advertising in store-front, roadside, and downtown areas.
Outdoor displays are also ideal as information screens and timetables in airports, bus stations, train stations, and more. The protection offered by a weatherproof TV enclosure allows transport operators to provide travelers with the latest updates all through the year.
Another common use of outdoor TV cabinets is in bars and restaurants. Boost the appeal of your venue by showing entertainment or sports in your outdoor dining area.
Speak to a screen protection specialist to discuss the right enclosure for your application.
Using An Outdoor TV Enclosure At Home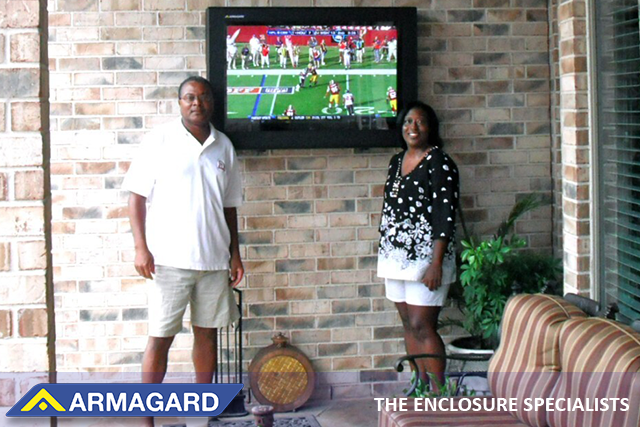 Homeowners can also benefit from a wall-mounted outdoor TV cabinet. These units are ideal for installing a TV in your backyard or by your pool.
Entertain friends or enjoy your favorite shows outside in the summer. An outdoor TV cabinet is the perfect luxury for your backyard.
Find Out More About Outdoor TV Enclosures
Wall-mounted outdoor TV cabinets are available for almost any size and make of screen, and they can be mounted on almost any exterior wall or ceiling.
Contact Armagard to discuss your requirements and for a no-obligation quote. Call +1-866-434-0807 or fill out a contact form today.