Attending DSE 2015? Don't miss the opportunity to visit Armagard. Find us at booth 1234, where seven of our finest AV protection solutions will be on show. Get a sneak peek…
DSE 2015 – Overview
DSE is now in its 11th year and is back at the Las Vegas Convention Center, March 11th – 12th.
Originally launched in 2004, DSE became the first ever exhibition solely dedicated to the digital signage market.
Over the last decade the event has contributed to the significant growth of the digital signage industry and now has over 200 exhibitors presenting their products year-on-year.
DSE is held in high esteem as the largest digital signage event of its kind in the world, attracting key personnel from industry sectors such as education, healthcare, hospitality, restaurant and transportation, along with vendors of hardware, software, network, delivery and content solutions from all over the globe.
In 2011 and 2013, the Digital Signage Expo was recognised as one of the 50, fastest growing trade shows, by the 'Tradeshow Executive' magazine.
Armagard's Attendance
DSE 2015 will be Armagard's fifth appearance at the event having debuted in 2011. Seven of our award winning enclosures will be on show at this year's exhibition, featuring solutions from our digital signage range.
Locate Us
Visit us at stand 1234 in the North hall, here's a floorplan: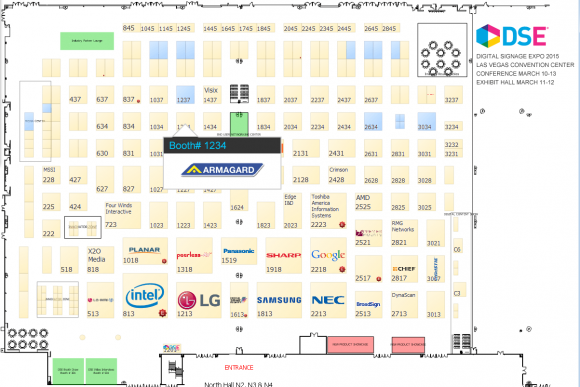 Product Sneak Peek
With seven products to showcase, get a sneak peek of what Armagard has to offer then see them in action at the show.
One to Lookout for
Undoubtedly, the unit to watch out for is the new, 47" sunlight readable digital signage totem.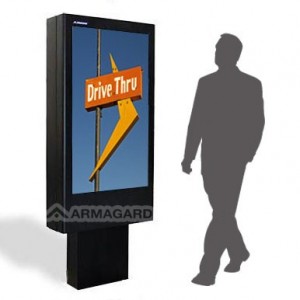 This is the quintessential unit for the $199.34 billion, US Quick Service Restaurant industry.
Revolutionising the drive-thru experience, the restaurant industry chooses this unit because of its cost-cutting attributes and its ability to drive sales.
Its earning potential delivers a swift return on investment, enhancing its total cost of ownership appeal.
This system is the future of drive-thru menus, replacing static, unappealing printed menus with an attractive image or video display of food, drink and dessert items.
The significant benefit to you is that it cuts printing costs and improves business efficiency because content can be changed quickly and conveniently.
We'll have two of these systems on stand, each featuring a high bright (2,000 candela screen) plus a media player, presenting you with a complete solution.
See them in action at booth 1234. Ask an Armagard representative about customization options and costs.
Gas Station Digital Signage Unit
NEMA 4 | Indoor and Outdoor Ready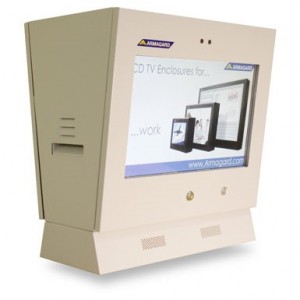 This motion activated advertising solution can accommodate two, 22" LCD/LED screens, and is totally outdoor ready.
It allows for continuous advertising in locations such as filling stations, transport hubs and sports arenas, increasing sales and revenues and delivering an excellent return on investment (ROI).
The distinctive Gas Station Digital Signage system is the ideal replacement for static posters. Change content quickly, cut costs and generate more revenue.
For a more convenient, eye-catching & cost effective way to advertise, choose the Gas Station Digital Signage unit.
The Stunning, 55" Digital Signage Enclosure
NEMA 4 | Indoor & Outdoor Ready
A masterpiece in enclosure engineering, installation of 55" anti-glare totem digital signage removes your need to rely on print advertising, cutting costs, reducing paper usage and making your business more environmentally friendly.
On stand, you will find the enclosure equipped with a 55", high bright (3,000 candela screen), plus a media player, offering you a complete solution.
There's no need to source hardware separately, saving you time and money.
Read the feature length product profile, now.
Ask an Armagard representative on stand about customization options and costs.
 42" & 52" LCD Enclosures – Portrait & Landscape
NEMA 4 | Indoor and Outdoor Ready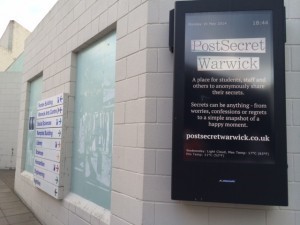 New to the range, the 42" Portrait Flat Panel Enclosure is designed to better facilitate eye-level viewing.
It serves well as a public information board and digital menu for restaurants.
The unit will keep screens operational in temperatures ranging between -22oF – +131oF (with air-conditioning). Plus, it features Armagard's brand new controller board, fitted as standard.
The classic, landscape LCD enclosure will be on show, featuring the 42" and 52" versions.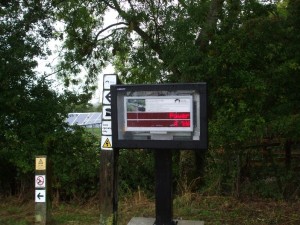 Both versions are equipped with Armagard's brand new controller board, which allows users to control the environmental settings of the units in cold climates.
You can adjust temperatures, control fans & control electronics to suit seasonal changes.
The units also feature anti-reflective glass, which prevents screen glare and overheating by deflecting the sun's rays.
Ask an Armagard representative on stand for customization options and costs.
32" Waterproof LCD Enclosure
NEMA 4 | Wash-down Ready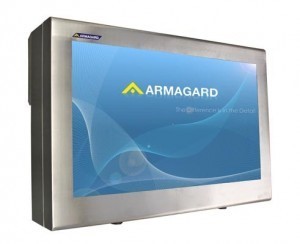 Designed with industrial environments in mind, the 32" Waterproof LCD Enclosure is manufactured using 316 (food grade) stainless steel.
The unit is ideal for facilities where high hygiene standards are paramount.
Sealed to NEMA 4 industry standard, the unit is fully waterproof & robust, ready-made to deal with the rigours of industrial environments.
This unique unit gives industrial businesses a digital signage option.
Visit the Armagard booth and ask about customization options and costs.
Arrange to see us
Prior to the DSE 2015 event you can schedule an appointment to see us for an extended insight into our products. It's also your chance to ask us any questions. To arrange a personal meeting call our US office on 1-866-434-0807, today.
Connect with Armagard
Check out Armagard's DSE 2015 profile, now. To learn more about Armagard products visit – www.armagard.com
For all the latest news building up to DSE 2015, connect with us via our social media channels. Find us on Facebook, follow us on Twitter or connect with us on LinkedIn.
We look forward to seeing you at DSE 2015.