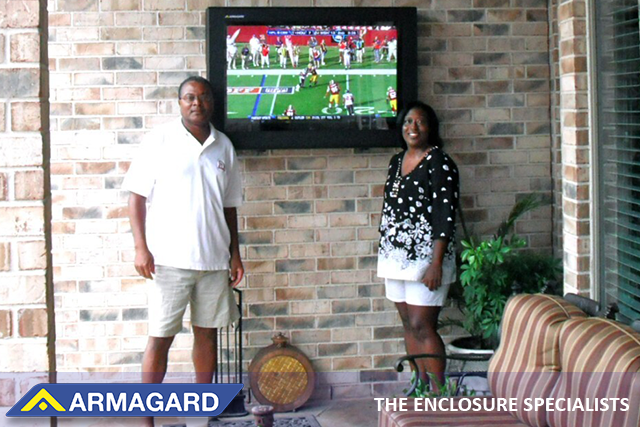 Installing a TV outdoors can be the perfect luxury. You get to enjoy the sun while watching your favorite shows and sport. However, purpose-built outdoor TVs can be expensive, and they often have limited lifespans. An outdoor TV cabinet is a great alternative.
An outdoor TV cabinet houses an ordinary TV in a robust, weatherproof body. It's highly cost-effective and a great investment, allowing you to enjoy a TV in your backyard for years to come.
Let's look at the benefits of protecting an indoor screen with a weatherproof TV cabinet.
Use The Television Of Your Choice
The big advantage of an outdoor TV cabinet is that it enables standard TVs to be taken outside. This provides cost savings, as indoor TVs cost less than outdoor TVs, and it gives you the flexibility to use whatever size or make of TV you like.
Outdoor TV cabinets are designed with a VESA mounting system that allows any compatible plasma, LCD or LED screen to be installed inside. This means you can use the TV of your choice, without being stuck with the specifications of purpose-built outdoor screens. Alternatively, put your old, unused TV to good use by giving it a new life in the garden.
Contact Armagard to discuss the best enclosure for your backyard TV.
Have Peace Of Mind That Your TV Is Fully Protected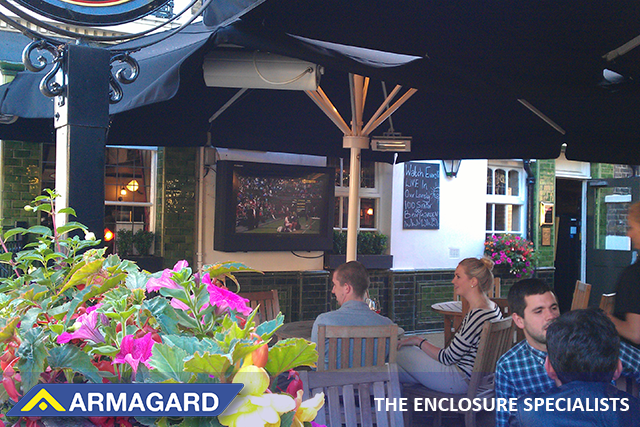 An outdoor TV cabinet provides complete protection for the screen. First, outdoor TV enclosures have a NEMA 4 rating, which guarantees protection from rain, snow and windblown dust and dirt. This allows you to leave your TV permanently installed outside, with peace of mind in its reliability and longevity.
Second, an outdoor TV cabinet provides robust physical protection. The mild-steel body, shatterproof screen and key-operated locks protect the screen from physical impact and theft. Once fixed to a wall or ceiling, the steel enclosure forms a secure home for your backyard TV, which gives you confidence leaving it unattended.
Finally, an outdoor TV enclosure ensures a steady operating temperature for the screen. This is important, as TVs exposed to high levels of sunlight can overheat. The enclosure's internal fans maintain airflow and keep the screen cool on hot summer days, allowing you to enjoy your backyard TV when the weather is at its best.
Speak to a sales advisor to discuss custom heating and cooling options that allow your outdoor TV to operate in any climate and all seasons.
Enjoy A Good Return On Investment
One of the biggest advantages of outdoor TV cabinets is that the TV can be removed and replaced whenever you want. This means you can upgrade your screen to a better or newer model at any time.
Outdoor TV enclosures also have a long life, allowing you to use a single cabinet to protect several generations of TV over many years — for maximum return on investment.
Find Out More About Outdoor TV Cabinets
Contact Armagard to discuss your requirements and for a no-obligation quote. Call +1-866-434-0807 or fill out a contact form today.